May 3, 2021
 "Comparing last year's April market to 2021 does not provide us any real insight into long term market trends," said Victoria Real Estate Board President David Langlois. "Instead of comparing to last year's numbers, we need to look at years before the pandemic to see how April 2021 compares to average. In the most recent five years pre-pandemic, the average number of sales in the month of April was 896. April 2016 holds the record for sales with 1,286 properties sold. The five-year average for active listings was 2,596, so we sit at more than one thousand homes fewer than a recent average level of inventory."
Continue Reading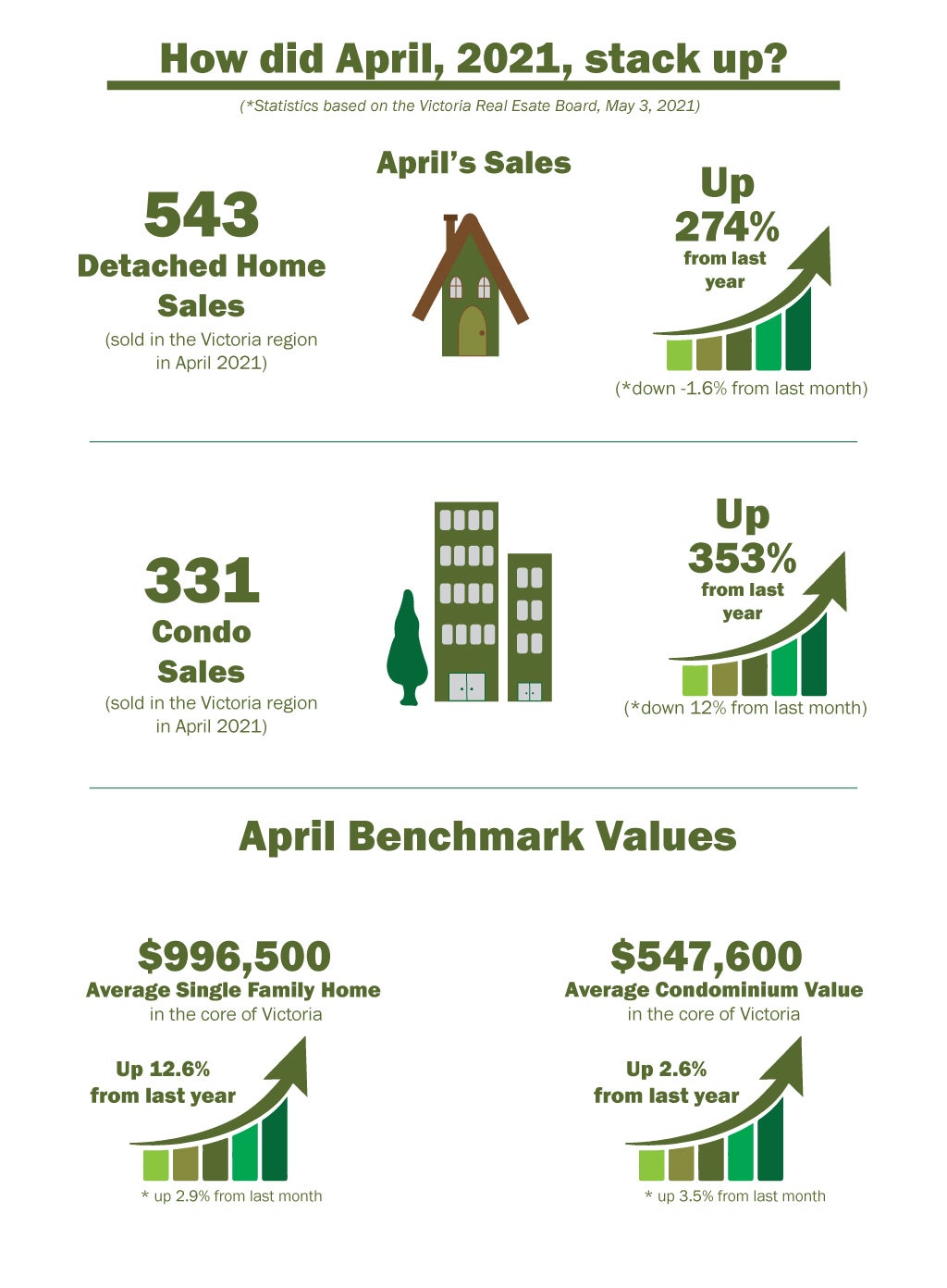 Most houses selling for over list price in red-hot Victoria market
Factors ranging from lack of inventory to historically low interest rates and an increase in people working from home have combined to turn the Victoria real estate market into a frenzied affair, where sellers are king and buyers have learned to pounce on things they like and pay more than the listed price."You have to act quickly and act decisively and be prepared for the situation," says David Langlois, president of the Victoria Real Estate Board.
These days, it's the norm for sellers to hold off offers for a few days, then receive multiple competing offers at once – most with no financing or inspection conditions attached.Langlois said 65 to 70 per cent of single-family homes sold in the region are going for above the listed price."We are massively undersupplied and we have tremendous demand and pricing is very difficult in this market."As of the end of April, just 1,133 homes were listed for sale in the region, a sharp drop from the 2,300 listings at the end of April last year.Sales have been brisk — 1,173 properties changed hands in March, a 92.9 per cent increase from the 608 in March 2020."The competition that results from any new listing that's desirable coming onto the market is such that we are seeing prices that are frankly unexpected," Langlois said.For example, a home listed for sale at $990,000 in the Oaklands neighbourhood sold in February for $1.3 million. A home in Fairfield listed at $995,000 also sold for $1.3 million in January, while a home in Vic West listed at $799,900 sold for $1.02 million in mid-February. In April, a Broadmead home listed for $1.2 million sold for $1.65 million after just two days on the market.That kind of activity isn't just in the core.In North Saanich, a home listed for $884,900 sold for $1.16 million in February, while in Central Saanich, a $2.995-million-listed home changed hands for $3.35 million late last year.In Sooke, an Otter Point home listed for $999,900 sold for $1.275 million. In Langford, a home listed for $589,900 sold in March for $731,000, and in April, a French Beach home listed for two days at $2.1 million sold for $2.425 million.Langlois said those waiting on the sidelines for things to cool off might be waiting a long time.
Continue reading on the Times Colonist
Join our mailing list and receive a monthly real estate update right to your inbox!