June 1, 2021 
The Victoria market continued to show its strength through the month of May, with a near record setting pace for sales and ongoing record low inventory levels. A total of 1,049 properties sold in the Victoria Real Estate Board region this May, 129.5 per cent more than the 457 properties sold in May 2020, but 6 per cent fewer than the previous month of April. Sales of condominiums were up 200.9 per cent from May 2020 with 325 units sold. 1.8 per cent fewer condominiums sold in May 2021 than in the previous month of April. Sales of single family homes were up 111.4 per cent from May 2020 with 537 sold. 4.8 per cent fewer single family homes sold in May 2021 than in the previous month of April.
Continue Reading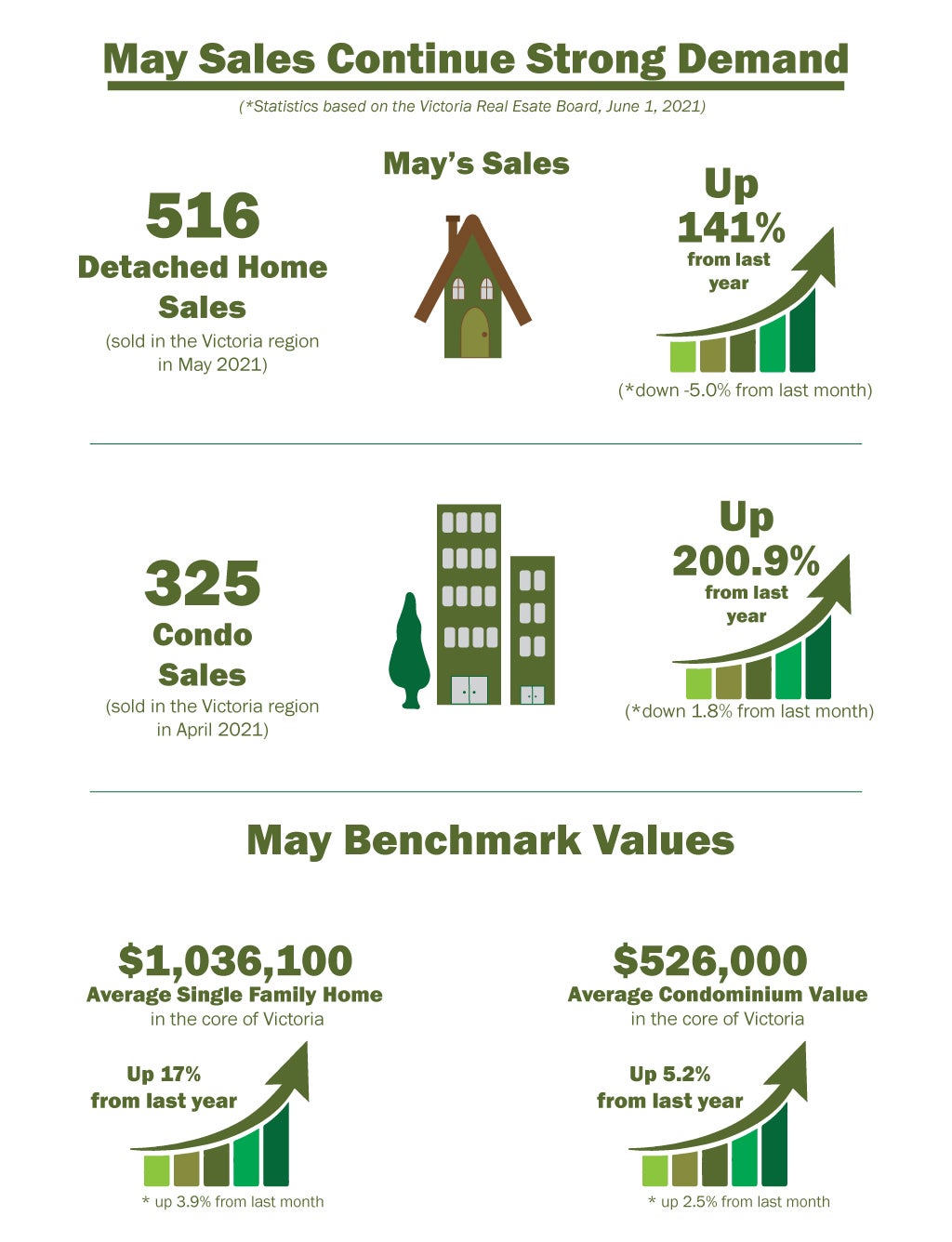 How the new mortgage 'stress test' will affect homebuyers
FROM CTV NEWS -- In an attempt to try and cool down the overheated housing market, the federal government is making it tougher to get a mortgage starting June 1.The new stress test was announced by the Office of the Superintendent of Financial Institutions on May 20. Starting Tuesday, the new calculation of the minimum qualifying rate for uninsured mortgages will be set at either the mortgage contract rate plus two per cent or 5.25 per cent — whichever one is greater.Here's what it means for buyers.According to lowestrates.ca, the current lowest five-year fixed mortgage is 1.69 per cent as of Tuesday afternoon. The average price of a home in Canada is $716,828 as of April 2021, according to the Canadian Real Estate Association.Let's say a home buyer hopes to get qualified for a mortgage with a rate of 1.69 per cent in order to buy a $716,828 home. After a 20 per cent down payment, they would need a mortgage of $573,462. With an amortization period of 25 years, their monthly payment would be $2,343.41, according to the federal government's mortgage calculator.But given that 1.69 plus two per cent is less than 5.25, the borrower would be stress tested against a 5.25 per cent interest rate. At 5.25 per cent, the borrower's monthly payments would be $3,417.36. The borrower would need to prove that they had enough income to afford the $3,417.36 payments, even though they would actually be paying $2,343.41.Prior to June 1, this borrower would have been tested against the Bank of Canada's five-year average conventional mortgage rate, which was 4.79 per cent as of last Wednesday. They would have only needed to prove that they could afford payments of $3,267.06 instead of $3,417.36. The pre-June 1 stress test was introduced in 2017 as part of the government's previous attempts to cool demand in the housing market.
Read full article on CTV NEWS
Join our mailing list and receive a monthly real estate update right to your inbox!