September 1, 2021 A total of 831 properties sold in the Victoria Real Estate Board region this August, 15.1 per cent fewer than the 979 properties sold in August 2020 and 0.5 per cent fewer than the previous month of July. Condominium sales were up 31.7 per cent from August 2020 with 345 units sold. 21.5 per cent more condominiums sold in August 2021 than in the previous month of July. Sales of single family homes were down 29.9 per cent from August 2020 with 357 sold. 9.8 per cent fewer single family homes sold in August 2021 than in the previous month of July.

"Year over year numbers might indicate a slowing of our market, but there are two important factors to consider," said Victoria Real Estate Board President David Langlois. "The first is that our market is starved for inventory. It should come as no surprise that with half the available inventory of last August we sold fewer homes this August. Without the significant lack of inventory we're experiencing, sales would most certainly have been comparable to, if not greater than, last August. The second factor is that the previous ten-year running average for sales in the month of August is 675 properties, so with 831 properties changing hands this August, it is clear that our market remains very robust and that lack of supply is the biggest issue impacting attainability for our community."



Continue Reading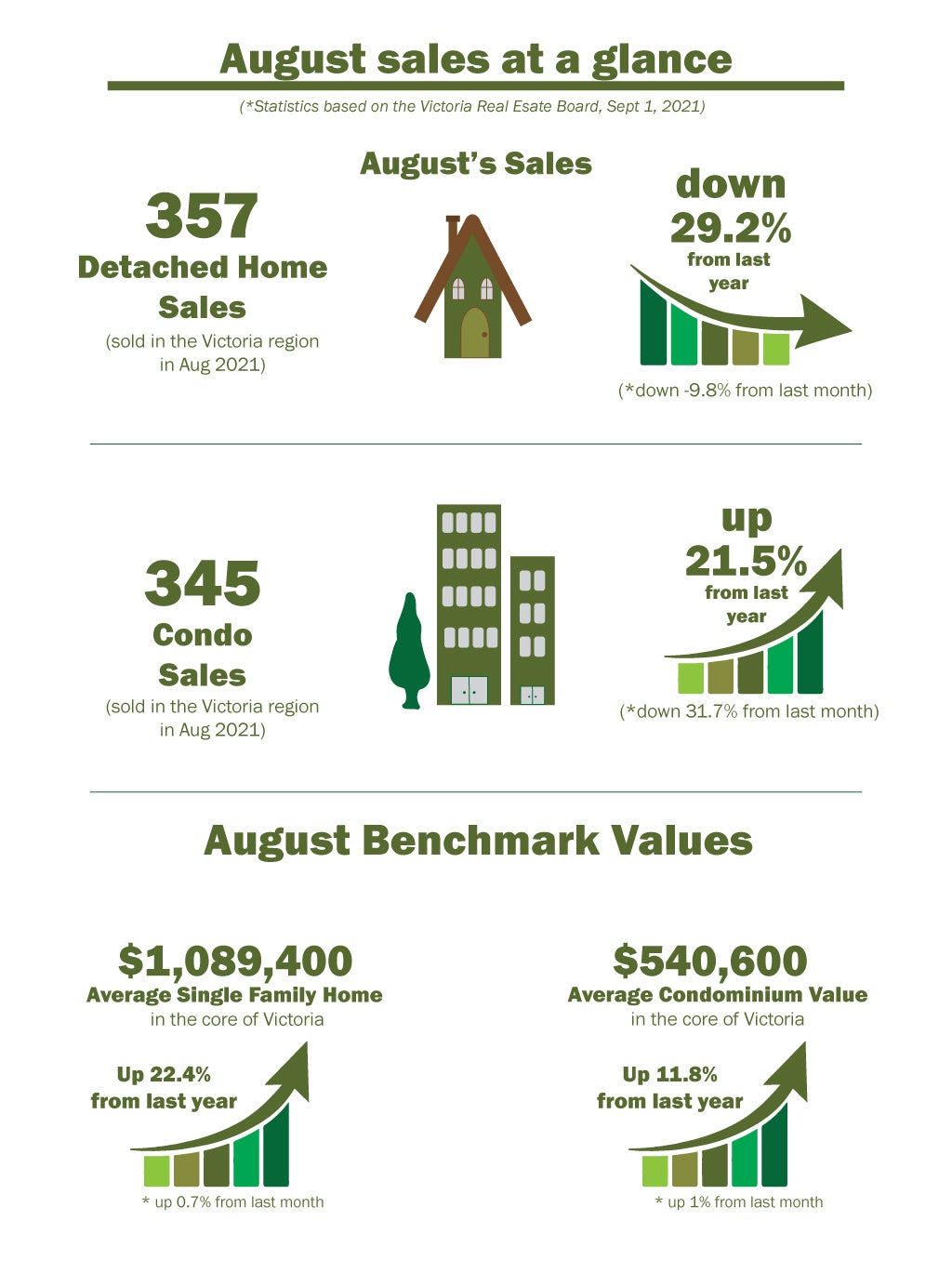 Multi-building proposal pitched for Capital Iron area; could include a new art gallery
Reliance Properties, the developer behind the recently approved Northern Junk project, is reimagining 6.7 acres of Victoria's downtown in what would be one of the biggest developments in the city. It could include a new home for the Art Gallery of Greater Victoria.Reliance is proposing a transformation at the north end of downtown, from the ­foreshore of Victoria's Upper Harbour east to Government Street, between Discovery and Chatham streets. The area includes the ­historic Capital Iron building and its parking lot, Mark's Work Wearhouse, and other stores and restaurants.
The site is mostly undeveloped, with just 93,000 square feet of commercial and retail space. The intention is to tear down existing buildings, except for three heritage buildings, to make way for industrial and commercial space, offices, residential units, live and work units for artists, and public open space. Three towers at 10, 13 and 17 storeys are proposed."I think it's a real kind of watershed moment for Victoria to get this opportunity to really expand its downtown, for the first time in many decades in a really comprehensive way," said Reliance president Jon Stovell.Reliance plans to preserve and rehabilitate the heritage buildings without major changes, Stovell said. That includes the Capital Iron building, its neighbour Valhalla Pure Outfitters, and a small building on Store Street that houses a pottery store. Stovell said they hope Capital Iron will continue to operate in their location, but other businesses would eventually need to relocate.Reliance has submitted a pre-application to the city to rezone the land. Stovell said the rezoning process could take about a year, and the project could be under construction within two years if approved.
 The first phase would focus on developing a 13-storey building with live/work studio spaces for artists above commercial space, a light industrial building that could house a brewery or advanced engineering work, and a new location for the Art Gallery of Greater Victoria on the parking lot land across from Capital Iron.Subsequent phases of the project would see marine-related commercial space and light industrial buildings on the waterfront, with mixed-use buildings for commercial, residential and offices along Store Street, including a 10-storey building. A 17-storey residential building is proposed at the corner of Government and Discovery streets, with another artist live/work space and light industrial or office space nearby.
Continue Reading on Times Colonist
Join our mailing list and receive a monthly real estate update right to your inbox!