Latest Market Reports
February 1, 2021  A total of 646 properties sold in the Victoria Real Estate Board region this January, 57.2 per cent more than the 411 properties sold in January 2020 and 2.4 per cent more than the previous month of December. Sales of condominiums were up 83.1 per cent from January 2020 with 216 units sold. Sales of single family homes were up 48.5 per cent from January 2020 with 297 sold.
Continue Reading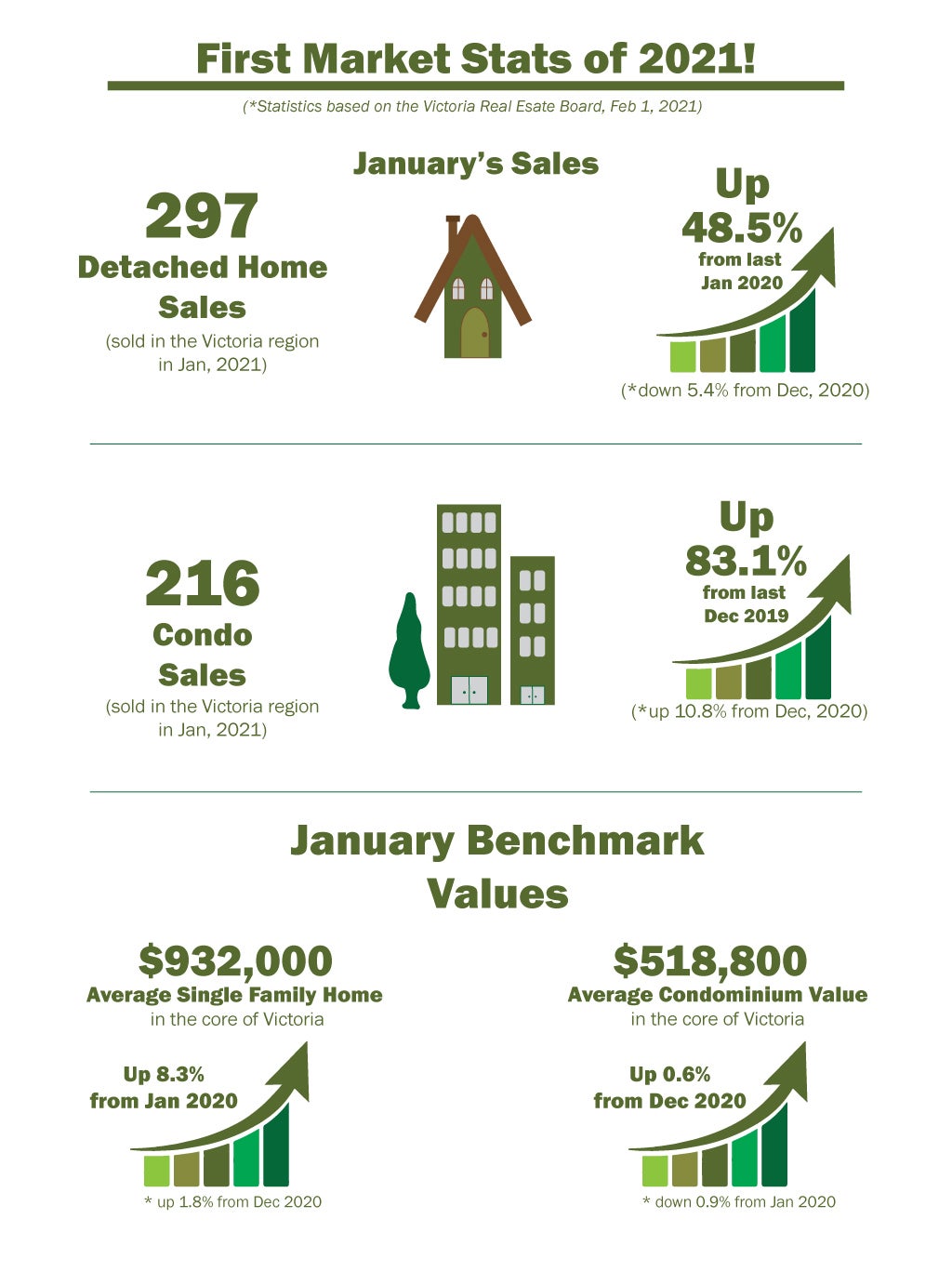 Strong local demand, lack of options, push up Greater Victoria housing prices
Continued high demand and a dearth of buying options continues to drive the price of single-family homes in Greater Victoria, according to numbers released Monday by the Victoria Real Estate Board.
The benchmark price of a single-family home in the region rose in January to $839,800, up from $828,400 in December and well over the $758,000 mark set in January 2020.
At the same time, the average selling price of a single-family home in Greater Victoria topped $1.22 million in January, up from $953,190 in January 2020.
The benchmark price represents changes in value for a typical home in a specific area, a measure which real estate boards say is more representative of the market than an ­average price.
"Our bustling market continues to be fueled by strong consumer demand to own a home in Greater Victoria, driven in part by low interest rates and by the overall desirability of our larger community," said board president David Langlois. "This continuing demand, coupled with our record low inventory, has resulted in competition for desirable properties.
Langlois said a suite of factors ranging from historically low interest rates, people moving up their retirement plans, renters wanting to own because of the low cost of borrowed money all the way to people just getting excited about real estate have contributed to fueling the pace of the market.
Home-grown sales are driving the market, according to the board. Of 8,224 sales in 2020, 90.9 per cent involved buyers already living in B.C., with the vast majority, 73.43 per cent, coming from within Greater Victoria.
Read full article on Times Colonist...