Latest Market Reports
Victoria real estate market experiences an active summer
Oct 1, 2020 "Another month has passed where we have seen surprisingly high sales numbers - which included quite a few higher end properties," says Victoria Real Estate Board President Sandi-Jo Ayers. "I don't think that anyone who was trying to predict market outcomes in our area over the course of the pandemic expected that the pent up demand from dampened sales in April and May would result in this level of market activity. There's no doubt that buyers are extremely motivated and this increased demand, coupled with limited inventory, fueled the September market."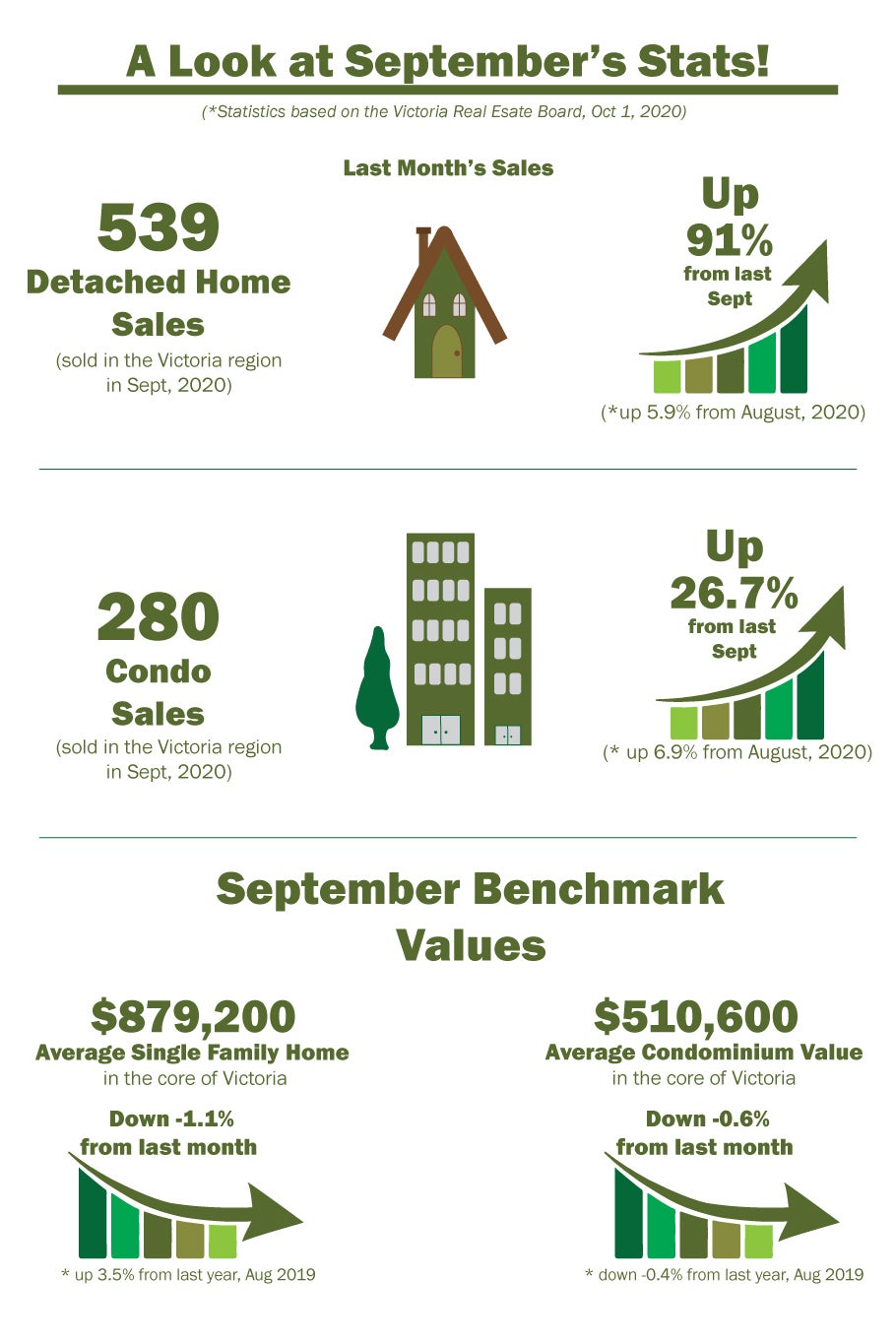 Average Canadian house price soared 18% in past year, CREA says
Last month was the busiest August for home sales ever
Canada's housing market continued its improbable run in August, as average prices jumped by almost 20 per cent from where they were a year earlier, and the number of homes sold shattered the monthly record.
The Canadian Real Estate Association, which represents more than 130,000 Realtors across the country, said Tuesday that 58,645 homes were sold during the month, which is 33 per cent more than changed hands in the same month last year. It's also more than six per cent more than the number of homes that sold in July, which was itself a record for the month.
August is typically not a very busy month for home sales. Normally, the market starts off the year slowly in the cold winter months before spiking in the spring, cooling down through the summer and getting ice cold again toward the end of the year. Then the cycle begins anew in January.
But 2020 has thrown those seasonal trends out the window as lockdowns in March and April delayed a lot of home purchases and pushed the buying season until later in the year.
Even with a global pandemic that at last count had wiped out more than a million jobs from Canada's labour market, last month was the sixth-busiest month on record for home sales, and the busiest August ever.
Prices skyrocketed, too. The average price of a Canadian home that sold last month was $586,000. That's up 18.5 per cent from the same month last year.